*Monkam Dyana, 1 year 6 months*
| | | |
| --- | --- | --- |
| Name | | Monkam Dyana(f) |
| Date of birth | | 1 year 6 months |
| Diagnosis | | VSD |
| Mother | | Joelle, midwife |
| Father | | xxx |
| Siblings | | 02 |
| Address | | Douala / Cameroon |
| Cardiologist | | Dr. Cabral Tantchou |
| Surgeon | | Dr. Charles Mvondo |
| Surgical intervention | | € 5.801,00 |
| Support requested | | € 5.801,00 |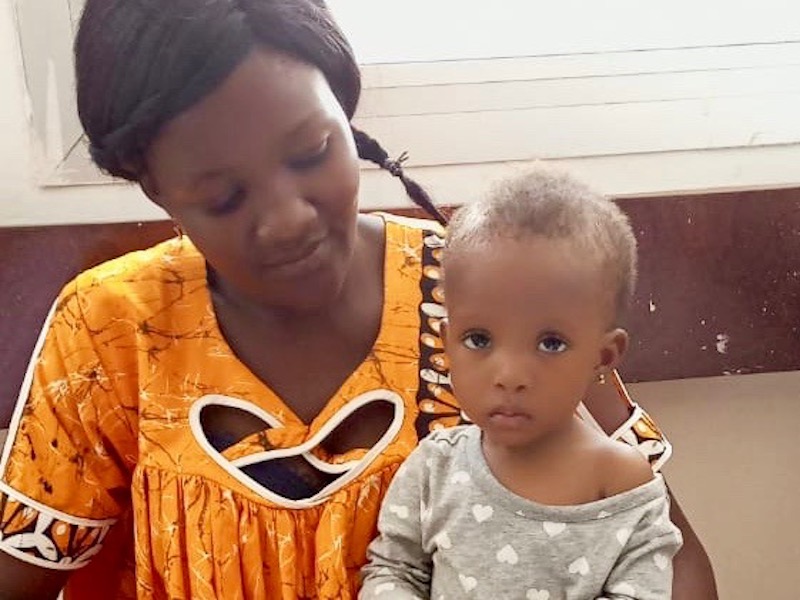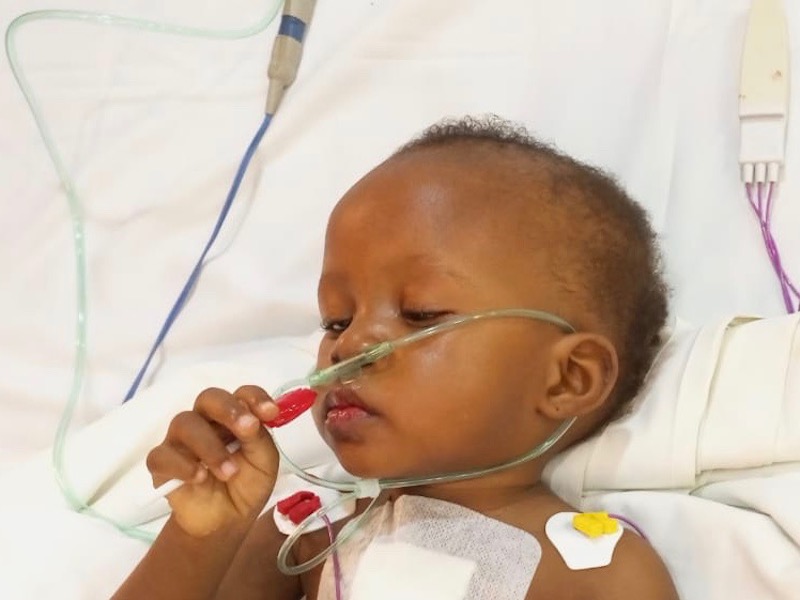 Everything is all right again!
We are happy that Dyana was successfully operated in November 2022. As always, Dr. Charles Mvondo and his team did a great job. After just seven days, Dyana was able to leave the hospital well recovered.

The family would like to thank everyone who contributed in various ways to the success!
Dyana's mother is a midwife and therefore recognized immediately that Monkam was not completely healthy. She sought advice from various hospitals. Dr. Tantchou Cabral finally diagnosed a congenital heart defect, a vetricular septal defect. An operation is absolutely necessary.

Joelle is a single mother and recently left her job to be able to fully care for her two children. In order to make the operation possible for Dyana, the family needs financial support. When Monkam is well again, Joelle will resume her profession as a midwife.

We thank you in advance for your valued contribution!

Date of application: 17 November 2022
Donation barometer
€ 5.801,00 / € 5.801,00
Our thanks go to the following donors
| | | |
| --- | --- | --- |
| Friends of Franciscan Mission Outreach | United States | € 593,83 |
| Sternsinger Aktion Südtirol | Italy | € 593,83 |
| Friends of Franciscan Mission Outreach | United States | € 66,67 |
| Martha M. / Bruneck | Italy | € 66,67 |
| Friends of Franciscan Mission Outreach | United States | € 16,67 |
| Enrico & Johanna / Meran | Italy | € 16,67 |
| Friends of Franciscan Mission Outreach | United States | € 33,33 |
| Alexander & Christa / Jenesien | Italy | € 33,33 |
| Friends of Franciscan Mission Outreach | United States | € 50,00 |
| Klarissen Brixen | Italy | € 50,00 |
| Friends of Franciscan Mission Outreach | United States | € 125,00 |
| Eva T.G. | Italy | € 125,00 |
| Friends of Franciscan Mission Outreach | United States | € 25,00 |
| Dorothea L. / Bozen | Italy | € 25,00 |
| Friends of Franciscan Mission Outreach | United States | € 10,00 |
| Matteo / St. Ulrich | Italy | € 10,00 |
| Friends of Franciscan Mission Outreach | United States | € 125,00 |
| Annelies S. / Feldthurns | Italy | € 125,00 |
| Friends of Franciscan Mission Outreach | United States | € 25,00 |
| Agnes A. / Prags | Italy | € 25,00 |
| Friends of Franciscan Mission Outreach | United States | € 12,50 |
| Annamarie H. / Bozen | Italy | € 12,50 |
| Friends of Franciscan Mission Outreach | United States | € 50,00 |
| Ingrid R. / Siffian | Italy | € 50,00 |
| Friends of Franciscan Mission Outreach | United States | € 25,00 |
| Renata & Bianca K. / Bozen | Italy | € 25,00 |
| Friends of Franciscan Mission Outreach | United States | € 37,50 |
| Andreas v.L. / Kaltern | Italy | € 37,50 |
| Friends of Franciscan Mission Outreach | United States | € 62,50 |
| Monika R. / Steinegg | Italy | € 62,50 |
| Friends of Franciscan Mission Outreach | United States | € 75,00 |
| Inn-Keramik Zahntechnisches Labor / Innsbruck | Austria | € 75,00 |
| Friends of Franciscan Mission Outreach | United States | € 25,00 |
| Josef G. / Bozen | Italy | € 25,00 |
| Friends of Franciscan Mission Outreach | United States | € 12,50 |
| Georg V. / Bozen | Italy | € 12,50 |
| Friends of Franciscan Mission Outreach | United States | € 25,00 |
| Irene E. / Bozen | Italy | € 25,00 |
| Friends of Franciscan Mission Outreach | United States | € 19,25 |
| Ulrich Th. / Partschins | Italy | € 19,25 |
| Friends of Franciscan Mission Outreach | United States | € 75,00 |
| Frieda M. / Wolkenstein | Italy | € 75,00 |
| Friends of Franciscan Mission Outreach | United States | € 6,25 |
| Ingrid P. / Naturns | Italy | € 6,25 |
| Friends of Franciscan Mission Outreach | United States | € 20,00 |
| Maria G. / Meran | Italy | € 20,00 |
| Friends of Franciscan Mission Outreach | United States | € 50,00 |
| Andreas M. / Brixen | Italy | € 50,00 |
| Friends of Franciscan Mission Outreach | United States | € 50,00 |
| Ludwig R. / Schlanders | Italy | € 50,00 |
| Friends of Franciscan Mission Outreach | United States | € 25,00 |
| Karin F. / Meran | Italy | € 25,00 |
| Friends of Franciscan Mission Outreach | United States | € 4,50 |
| Mathilde E. / Bruneck | Italy | € 4,50 |
| Friends of Franciscan Mission Outreach | United States | € 37,50 |
| Richard St. / Meran | Italy | € 37,50 |
| Friends of Franciscan Mission Outreach | United States | € 75,00 |
| Cristina H. / Meran | Italy | € 75,00 |
| Friends of Franciscan Mission Outreach | United States | € 250,00 |
| Erwin T. / Lana | Italy | € 250,00 |
| Friends of Franciscan Mission Outreach | United States | € 62,50 |
| Ulrike & Gerahard C.B. / Bozen | Italy | € 62,50 |
| Friends of Franciscan Mission Outreach | United States | € 5,00 |
| Burkhard & Gabriele H. - Herzpaten / Berlin | Germany | € 5,00 |
| Friends of Franciscan Mission Outreach | United States | € 50,00 |
| Othmar & Anni T.H. / Vilpian | Italy | € 50,00 |
| Friends of Franciscan Mission Outreach | United States | € 25,00 |
| Anna M.I. / Neumarkt | Italy | € 25,00 |
| Friends of Franciscan Mission Outreach | United States | € 50,00 |
| Grit K. / Bozen | Italy | € 50,00 |
| Friends of Franciscan Mission Outreach | United States | € 500,00 |
| Sternsinger Aktion Südtirol | Italy | € 500,00 |
| Friends of Franciscan Mission Outreach | United States | € 50,00 |
| Doris D. / Bozen | Italy | € 50,00 |
| Friends of Franciscan Mission Outreach | United States | € 25,00 |
| Maria R. / Oberbozen | Italy | € 25,00 |
| Friends of Franciscan Mission Outreach | United States | € 125,00 |
| Magdalena R. / Kaltern | Italy | € 125,00 |