Lole, 8 months
| | | |
| --- | --- | --- |
| Name | | Ngassemo Lole (f) |
| Date of birth | | 8 months |
| Mother | | Teacher |
| Father | | Small business |
| Siblings | | 03 |
| Address | | Yaoundè/Cameroon |
| Diagnosis | | VSD |
| Cardiologist | | Dr. Cabral Tantchou |
| Surgeon | | Dr. Charles Mvondo |
| Surgical intervention | | € 5.801,00 |
| Support requested | | € 5.801,00 |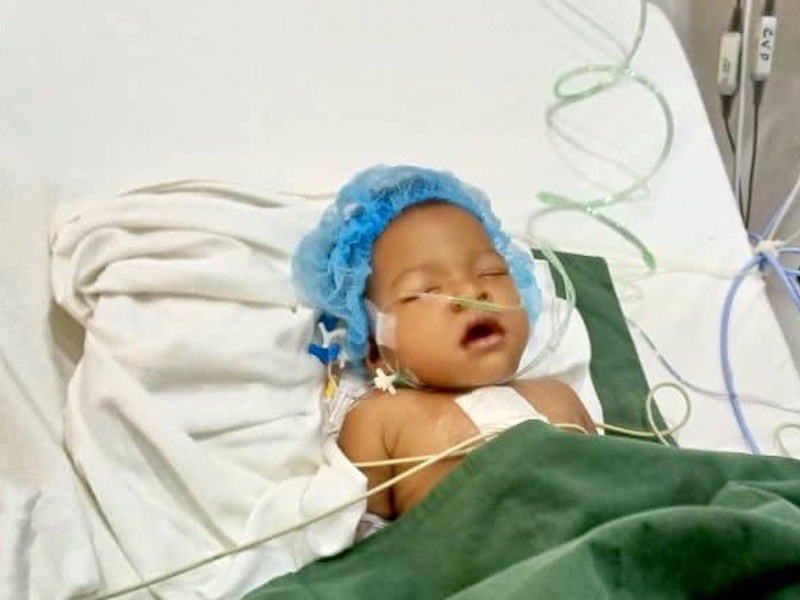 Happy parents!
The operation was successful, Lole has recovered well and the parents are overjoyed. Here you can see Lole together with her parents at the first follow-up. The operation was performed by Dr. Charles Mvondo and his excellent team.
A special thanks goes to Missio Bozen/Brixen, Katholisches Sonntagsblatt and Caritas Bozen, who made the operation possible with the great Advent calendar campaign 2021.
Soon after birth, Lole had breathing problems. An echography was performed and a ventricular septal defect was found. The doctors recommended having an operative correction of the heart defect carried out as soon as possible.
In Cameroon there is no health insurance system that would cover heart surgery. Lole's parents are building a modest life with the teacher's salary and the income from the retail trade. Paying for the cost of the operation is absolutely impossible.
Thanks to the great "Advent Calendar Campaign 2021" an operation date in March 2022 could be secured for Lole!
Donation barometer
€ 5.801,00 / € 5.801,00
Our thanks go to the following donors
| | | |
| --- | --- | --- |
| Adventkalender Aktion 2021 | Italy | € 5.801,00 |