Danielle, 7 years
| | | |
| --- | --- | --- |
| Name | | Makuete Danielle (f) |
| Date of birth | | 7 years |
| Adoptive mother | | Nurse |
| Parents | | not known |
| Siblings | | 0 |
| Address | | Bafoussam/Cameroon |
| Diagnosis | | PDA |
| Cardiologo | | Dr. Cabral Tantchou |
| Surgeon | | Dr. Charles Mvondo |
| Surgical intervention | | € 5.801,00 |
| Support requested | | € 5.801,00 |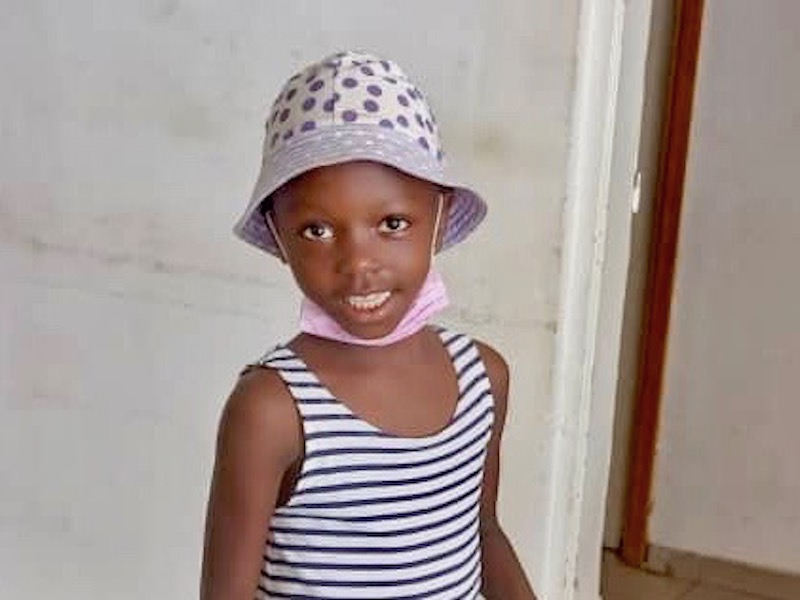 Success!
Fate was kind to Danielle this time! With the generous support from South Tyrol, Dr. Charles Mvondo was able to operate on Danielle's heart in March 2022. The operation was a complete success. Thus, the fate of Danielle took a decisive turn. She can now lead a healthy life.

A special thanks goes to Missio Bozen/Brixen, Katholisches Sonntagsblatt and Caritas Bozen, who made the operation possible with the great Advent calendar campaign 2021.
It has been known since birth that Danielle has a heart defect. The fact that an operative correction is only possible now that she is already 7 years old is due to Danielle's special fate.
Not only was Danielle born premature, she was abandoned on the streets of her hometown Bafoussam right after birth. Danielle was placed in an orphanage, was medically examined, found to have a heart defect (PDA) but nothing further was done. Later Danielle was adopted by Mrs Edwige, a nurse. She had Danielle re-examined and surgical correction of the heart defect was advised. However, the adoptive mother cannot pay for the operation costs incurred.
Thanks to the great "Advent Calendar Campaign 2021" an operation date in March 2022 could be secured for Danielle!
Donation barometer
€ 5.801,00 / € 5.801,00
Our thanks go to the following donors
| | | |
| --- | --- | --- |
| Adventkalender Aktion 2021 | Italy | € 5.801,00 |