Viviane, 26 years
| | | |
| --- | --- | --- |
| Name | | Viviane L. (f) |
| Date of birth | | 26 years |
| Nationality | | Chad |
| Occupation | | Student |
| Mother | | Farmer |
| Father | | deceased |
| Diagnosis | | Mitral Valve Regurgitation |
| Cardiologist | | Dr. Cabral Tantchou |
| Surgeon | | Dr. Charles Mvondo |
| Surgical intervention | | € 5.801,00 |
| Contribution from family | | € 427,00 |
| Donation-father of Dr. Bettina (Germany) | | € 2.500,00 |
| Support asked for | | € 2.874,00 |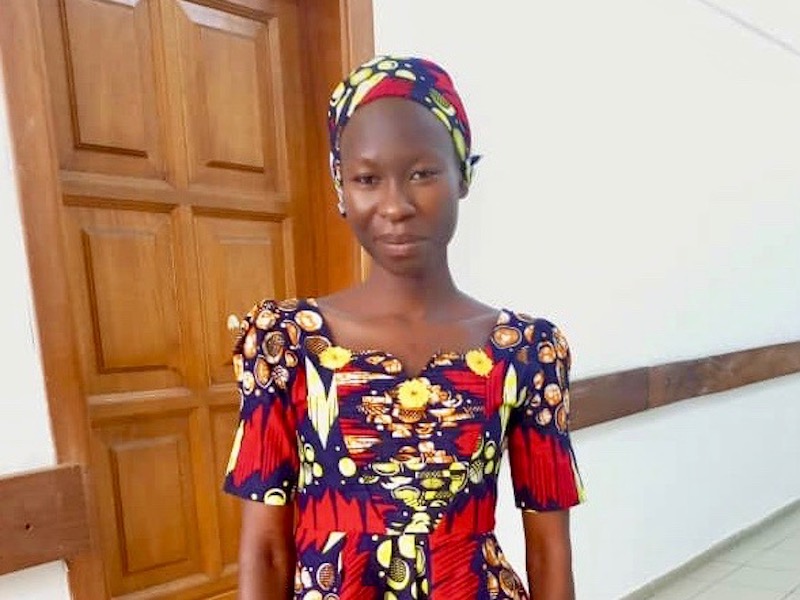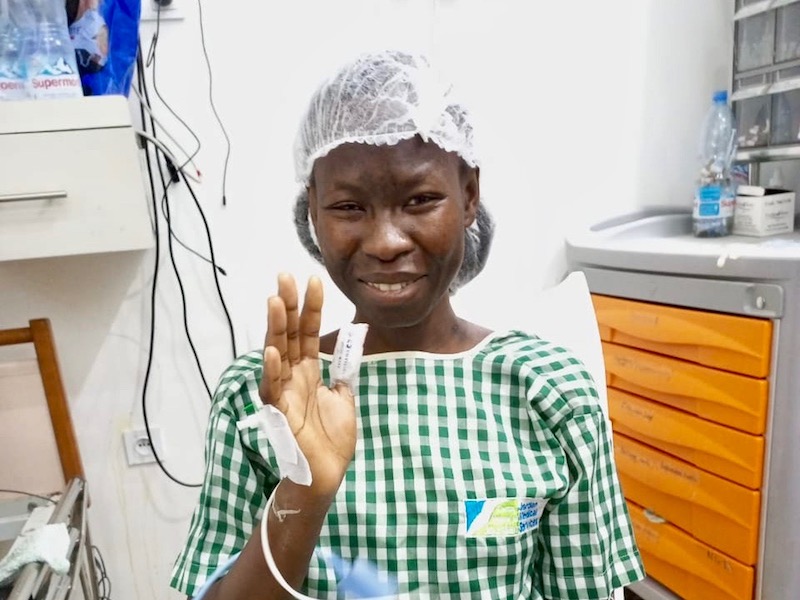 New heart valve - new life!
In February 2023, the defective artificial mitral valve was replaced. Dr Charles Mvondo and his team performed the operation. There were no complications.

Viviane is happy to be with her child and her family again. Without the support of the mi-do donation community, the operation would not have been possible. Viviane thanks you from the bottom of her heart for the "new life" you gave her.
Viviane comes from Chad and has, in the truest sense of the word, gone through a long ordeal. In 2007, she underwent her first heart valve surgery in France (sponsored by Chaine de l'Espoir). The story of suffering is interrupted by a joyful event - in 2019, Viviane gives birth to a child by caesarean section. Shortly thereafter, heart problems occur again. In search of help, she comes to Cameroon and goes from hospital to hospital in Yaoundé. Finally, she is sent to the Cardiac Centre Outreach Yaoundé for surgery. The heart valve needs to be replaced urgently.

Chloè, Viviane's mother and widow, takes care of Viviane and her child. The extended family helps as much as they can. However, the costs of the operation cannot be covered.

We therefore ask for your valued support!

Date of application: 04. 02. 2023
Donation barometer
€ 2.875,00 / € 2.875,00
Our thanks go to the following donors
| | | |
| --- | --- | --- |
| Burkhard & Gabriele H. - Herzpaten / Berlin | Germany | € 20,00 |
| Burkhard & Gabriele H. - Herzpaten / Berlin | Germany | € 20,00 |
| Manfred | Austria | € 60,00 |
| Ottilia & Helmuth R.K. / Bozen | Italy | € 500,00 |
| Stiftung Maria Teresa Riedl | Italy | € 1.500,00 |
| Burkhard & Gabriele H. - Herzpaten / Berlin | Germany | € 20,00 |
| Burkhard & Gabriele H. - Herzpaten / Berlin | Germany | € 20,00 |
| Anonymous | Italy | € 20,00 |
| Matteo / St. Ulrich | Italy | € 25,00 |
| Burkhard & Gabriele H. - Herzpaten / Berlin | Germany | € 20,00 |
| Maria R. / Oberbozen | Italy | € 300,00 |
| Robert A. / Bozen | Italy | € 50,00 |
| Burkhard & Gabriele H. - Herzpaten / Berlin | Germany | € 20,00 |
| Kathi L.W. / Dorf Tirol | Italy | € 300,00 |