Eucharia, 32 years
| | | |
| --- | --- | --- |
| Name | | Nfor EUCHARIA (F) |
| Date of birth | | 32 years |
| Nationality | | Cameroon - Nkambe |
| Diagnosis | | Mitral- and Tricuspid valve desease |
| Surgeon | | Dr. Charles Mvondo |
| Cardiologist | | Dr. Cabral Tantchou |
| Surgical Intervention + treatment | | € 5.801,00 |
| Support requested | | € 5.801,00 |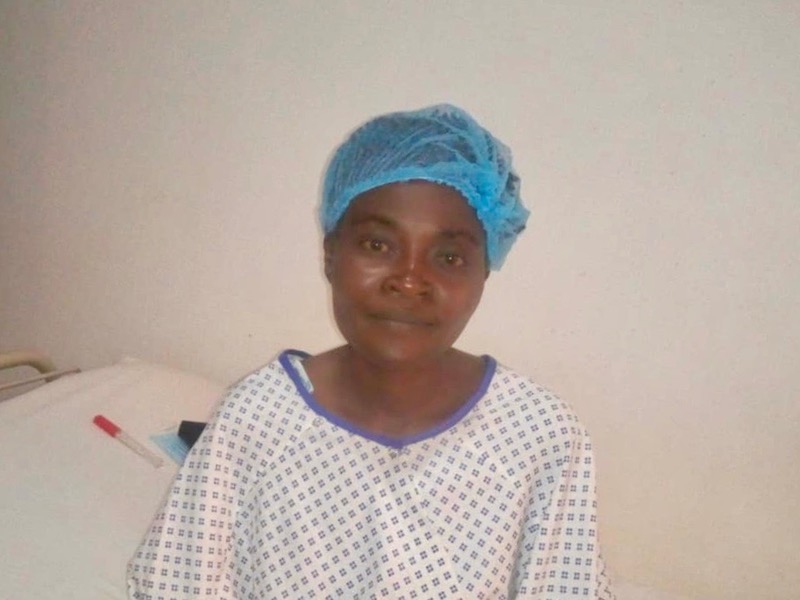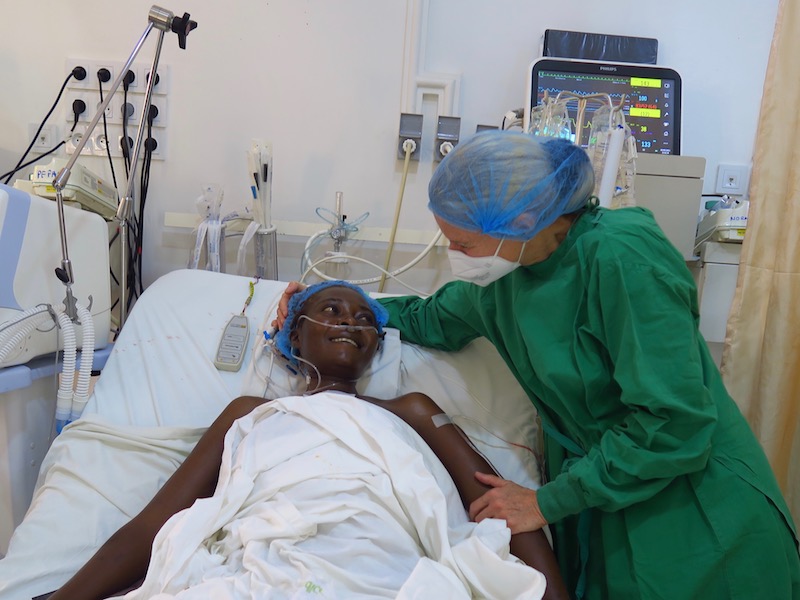 Growing to the heart!
Eucharia is very dear to me personally. During my visit to the Cardiac Centre, I visited her every day and had long conversations with her. She is an extremely lovable and strong woman. Eucharia is incredibly grateful for the help she received.

The operation was performed by Dr. Charles Mvondo and his team together with the anaesthesiologist Dr. Ellen Dailor from the USA. Special thanks to Ellen who came all the way from the US to volunteer!
Already in 2012, Eucharia had to undergo heart surgery. For a while everything went well but then Eucharia gave up the medication for a variety of reasons, including financial (!) reasons. Now, after 10 years, the mitral valve has to be replaced and another heart valve repaired. Dr. Charles Mvondo will perform the necessary surgery at the Cardiac Centre Outreach-Yaounde.

Eucharia is in an extremely difficult situation. Due to a socio-political conflict, she had to flee her home country a few years ago. She now lives with her sister in the French part of Cameroon. Eucharia is unable to work because of her illness, and her sister tries to make a living for both of them with occasional jobs. There are no funds for medicines or even surgery. We had to persuade Eucharia to come to the operation and had assured her several times that the mi-do fundraiser would cover all costs. The operation was successfully carried out on January 14, 2022! In the belief that the necessary funds could be collected subsequently via the mi-do donation community, mi-do paid in advance. Many thanks for your esteemed contribution!

Date of request: January 14, 2022
Donation barometer
€ 5.801,00 / € 5.801,00
Our thanks go to the following donors
| | | |
| --- | --- | --- |
| Etica Mundi mi-do | Italy | € 2.031,00 |
| Burkhard & Gabriele H. - Herzpaten / Berlin | Germany | € 20,00 |
| Matteo | Italy | € 30,00 |
| Roberta S. / Bolzano | Italy | € 400,00 |
| Josef M. / Bozen | Italy | € 500,00 |
| Agnes A. / Prags | Italy | € 200,00 |
| Anna & Anton I. / Neumarkt | Italy | € 50,00 |
| Agnes R. / Wien | Austria | € 1.000,00 |
| Anonymous | Italy | € 200,00 |
| Burkhard H. - Herzpate / Berlin | Germany | € 20,00 |
| Alois A. / Montan | Italy | € 50,00 |
| Enrico & Johanna LC / Meran | Italy | € 100,00 |
| Region Trentino-Südtirol | Italy | € 1.200,00 |